Welcome To Our Campus
Cadet College Razmak is one of the leading Institution of the country, which earned its name through sheer dedication, perseverance and hard work. The college underwent many ups and downs during the last four decades, Alhamdolillah it is shaping up well now; The performance and contribution of Razmians in all spheres of national life is commendable and a source of inspiration and pride for the institution. Ever since I took over the charge of Cadet College Razmak, I have been trying to identify the problems areas needing our attention with an aim to farther the contribution of my predecessors and achieve institutional excellence. I am committed to the development of cadets' personality and character, so that they emerge as better students, human being and enlightened individuals prepared to face the challenges that lie ahead and share the burden of their parents and families, rather being a burden on them and the society. In the environment of a consequential race for survival of the fittest the attainment of Quality Education has emerged as the deciding factor in molding the destiny of nations. With national literacy rate below the desired level and even lower in tribal areas..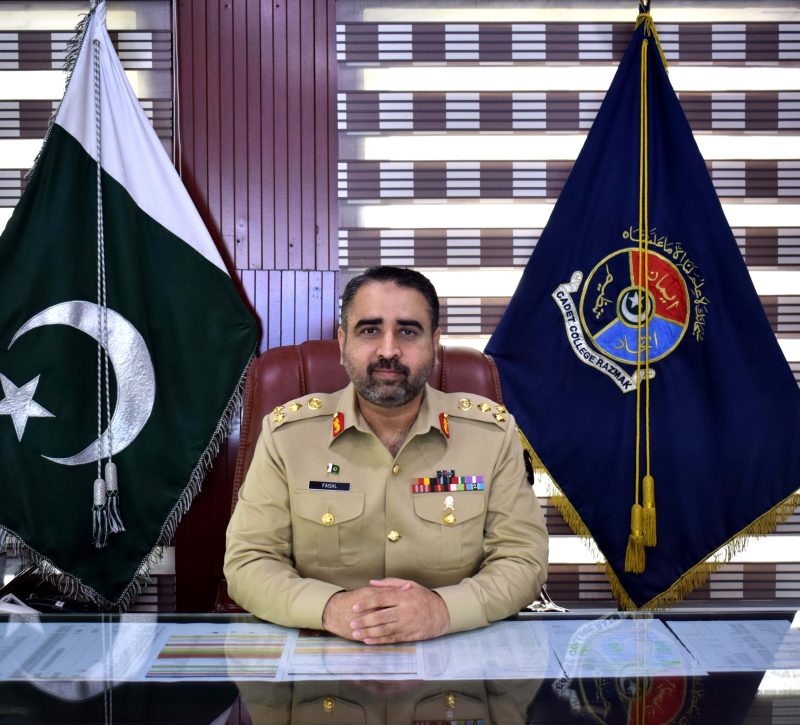 Brig Mirza Faisal Saleem Baig
Our History
College was established at Razmak through a Presidential order of 27 December, 1977. College started functioning in 1978. Initially a batch of 100 cadets joined the College in March 1978. Cadets were admitted in classes 7th, 8th and 9th. Cadets were divided into two Houses viz Ghazali & Bilal. With an annual intake of 50 cadets every year, eventually the College reached to the optimum level of 6 Houses, viz Ghazali, Bilal, Jinnah, Babar, Abdali & Khushhal. For sometime, the intake stabilized at 80 cadets annually. However, in 2012 the entry to class 7th was stopped and intake was increased to 92. Resultantly we had to select only 12 cadets for class 8th for 2013. Since 2016 Entry, the annual intake reach to 140 cadets per year. The College has so far produced more than 500 Doctors, 415 Engineers, 475 Officers in Armed Forces and more than 600 Razmians are serving in other fields like Civil Services, IT, Politics, Education etc. The College was shifted to Peshawar in 2009 due to law & order situation and reopened at Razmak in May 2011. The College was again shifted to Aman Gharh in April 2012 due to prevailing law & order situation in North Waziristan. The Amangarh location comprised of a godowns and garrages not at all suitable for living. 20 to 25 cadets were living a room. There were no play grounds and the teaching learning environment was badly damaged. Parents and Ex. cadets created lot of hue and cry and demanded shifting of the college. Army posted a serving Colonel ( Razmian) as Principal with a mission to recreate the college. Commander 11 Corps got new accommodation at Nowshera cantt for the College. The new accommodation fulfilled all the requirements of the college. The new accommodation was of 19 and 20th century built and identical to Razmak in outlook. The complete college was shifted by 6th March 2013.Cadet College was moved back to Razmak in September 2015 to its original location.
NUMBER OF CURRENT STUDENTS